Welcome to Addis Ababa Restaurant
Addis Ababa is a cozy and affordable Ethiopian restaurant in Amsterdam, where you can enjoy authentic Ethiopian cuisine.
The restaurant is named after the capital of Ethiopia, Addis Ababa. This literally means: 'new flower'.
Ethiopia has a special food culture that goes back over several millenia. One of the earliest references to its cuisine is found in Homer's Iliad, where the Greek Gods of Mount Olympus descended to sit at a banquet with the noble Ethiopians.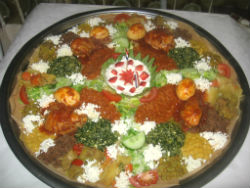 Injera
Injera is an Ethiopian specialty, and it is a fermented pancake made up of 30 % teff.
Teff has been grown in Ethiopia for the last 4000 years. What makes it special is that it's a gluten-free cereal, rich in iron, calcium, vitamin C, magnesium, phosphorus and zinc. The high iron content in teff stimulates the formation of red blood cells, which promote endurance.
Many Ethiopian athletes, like two-time Olympic champion and eight-time world champion Haile Gebrselassie, eat teff on a daily basis.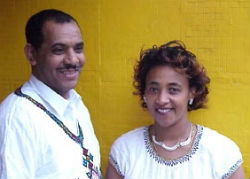 Teff is completely gluten free. People with gluten intolerance can therefore safely eat teff. Do you want to completely gluten-free food with us? Let us know a day in advance .
Eating is a social activity in Ethiopia. Everyone eats with his right hand. So: always wash your hands before and after eating!
Tefera and Etetu Zerfu